Tokyo Gas has set out a detailed decarbonisation strategy as it strives to address market volatility, maintain stable supply and ensure viability in a Net Zero era.
While promoting the use of liquefied natural gas (LNG) in Japan and overseas as a means of reducing carbon dioxide (CO2) emissions, it will use the earnings to invest in advanced fields of renewable energy, especially offshore wind power, e-methane and hydrogen, and progressively turn those investments into businesses.
In the next two years, it intends to strengthen LNG trading in European and Pacific markets, combine financial products and assets, and use digital technology to diversify trading by entering the electricity supply/demand balancing market. It will increase use of carbon-neutral LNG (CNL), advance green transformation (GX) by establishing an overseas supply chain for e-methane deployment, and launch LNG infrastructure projects in South East Asia. About 10% of Japan's LNG imports come from Russia, mostly from Sakhalin II.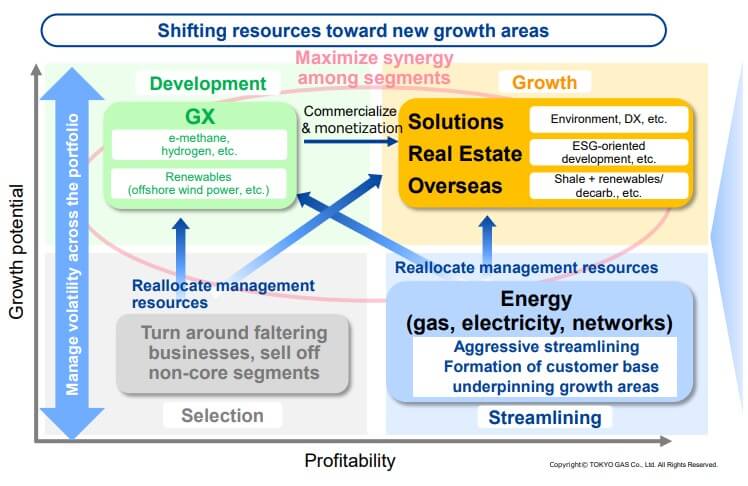 Alongside studying methods for achieving Net Zero CO2 emissions from its thermal power plants, Tokyo Gas will target zero emissions from city gas production facilities and is targeting 2.2mkW renewable power source transaction volume by 2025.
In the hydrogen sphere, Tokyo Gas aims to develop a low-cost water electrolysis cell stack and acquire renewable power sources.
Tokyo Gas will develop a new digital trading platform that will better enable it to provide 'a stable, environmentally responsible, and flexible supply of energy', and 'radically overhaul' back office operations to double productivity.
It will seek to strengthen competitiveness by stepping up ESG-oriented development, and realise stable growth and improved earnings and efficiency by establishing a circular development model and expanding range of development.
In October 2020, Prime Minister Suga declared that Japan aims to reduce greenhouse gas emissions to Net Zero by 2050. The administration will focus on realising a green society and embracing proactive climate change measures to transform the industrial sector.
Japan is the sixth largest GHG emitter in the world after China, the United States, the European Union, India, and Russia, according to McKinsey.
"The country's power sector is more dependent on fossil fuels than other developed economies, making it more difficult to provide zero-carbon electricity to the sectors that will need it to decarbonise," it notes. "This higher dependency on fossil fuels is due, in part, to Japan's lower renewables capacity. For instance, its deep coastal waters make it difficult to install offshore wind turbines, and its mountainous terrain precludes open space for onshore wind and solar farms."
For Japan to reach its 46% emissions-reduction target by 2030, it would need to eliminate about 500MtCO2e. This could be done at an average cost savings of $34 per metric tonne of carbon dioxide equivalent (tCO2e) over the next decade because the required technologies are already mature.
"Decarbonising Japan will take significant investment, the reconfiguration of trade, and a reconception of industry focus," it concludes.
"But swift action could set the country up to become a global leader in green technologies such as hydrogen gas turbines, offshore floating wind and solar technology, BEV manufacturing, and more. These could open the door to new business opportunities for countless companies and individuals while enabling Japan to do its part in combating climate change."
Six management changes were announced to coincide with the new decarbonisation push, with Kasutani Toshihide, Kimoto Kentaro and Ogawa Shinsuke all appointed to 'Representative Corporate Executive Officer, Vice President' from April 1, and Sasayama Shinichi, Higo Takashi and Tannowa Tsutomu appointed Director, Director and Outside Director respectively.