Petronas and the Sabah State Government continue to expand the collaboration in the oil and gas industry through a Heads of Agreement (HOA) signed between Petronas Carigali Sdn Bhd (PCSB) and SMJ Sdn Bhd (SMJSB), a company wholly-owned by the Sabah State.
The HOA paves the way for SMJSB's potential acquisition of a 50% participation interest in the Samarang Production Sharing Contract (PSC). The Samarang field is located approximately 50km offshore Sabah.
The agreement was signed between PCSB's CEO, Hasliza Othman, and CEO of SMJSB, Dr. Dionysia Aloysius Kibat, in the presence of Petronas President and Group CEO, Datuk Tengku Muhammad Taufik, Sabah Chief Minister, Datuk Seri Panglima Haji Hajiji Haji Noor and Sabah Finance Minister, Datuk Seri Panglima Masidi Manjun.
Taufik said, "Petronas shares the State's aspirations for mutual prosperity even as we both pursue sustainable development. Having SMJSB on board as our upstream business partner underscores PETRONAS' efforts to build a more inclusive environment for the oil and gas industry in Sabah, both offshore and onshore."
"SMJBS's potential participation in the Samarang PSC also demonstrates Petronas' continued commitment under the Commercial Collaboration Agreement to develop and unlock the full potential of Sabah's oil and gas industry," he added.
The Samarang PSC is a producing asset encompassing key oil and gas hubs in Sabah. Currently it is producing approximately 36,000 barrels of oil equivalent per day (boe/d) for both oil and gas. The gas is delivered to customers in Kota Kinabalu and Labuan.
Earlier this year, Petronas Chemicals Group Berhad signed a HOA which welcomed SMJSB as its partner to PETRONAS Chemicals Fertiliser Sabah Sdn Bhd with a 25% of equity interest in PETRONAS Chemicals Fertiliser Sabah, as part of its efforts in providing for greater revenue sharing with the Sabah GLC.
On February 15, PCSB and E&P Malaysia Venture also signed a Letter of Understanding with SMJSB on the back-in option arrangement on the Block SB409 PSC, giving the Sabah State Government up to 20% participating interest upon completion of work commitment or commercial discovery, whichever is earlier.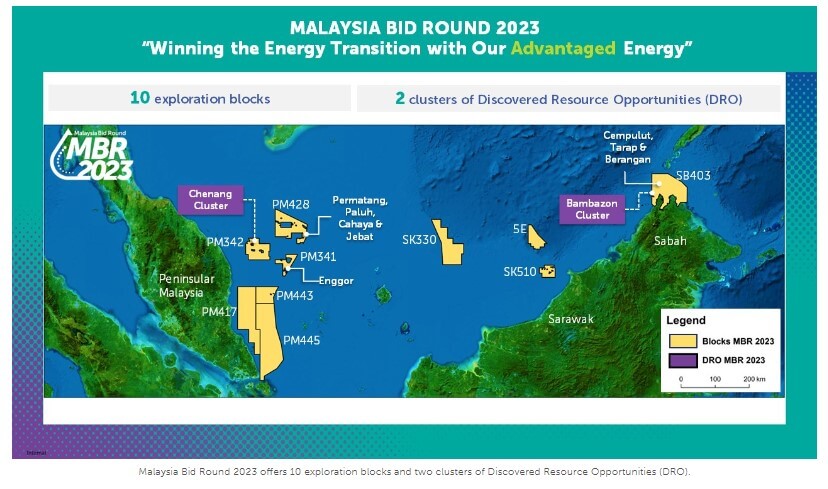 Petronas recently launched the Malaysia Bid Round 2023 (MBR 2023), offering 10 exploration blocks and two clusters of Discovered Resource Opportunities (DRO).
Themed 'Winning the Energy Transition with our Advantaged Energy', MBR 2023 saw the participation of more than 50 oil and gas companies, as well as government agencies, foreign trade attachés and energy market consultants. The annual event was also streamed live for potential partners.
The 10 exploration blocks on offer are located within the producing Malay, Sabah and Sarawak basins as well as the newly opened Penyu basin. These blocks cover various geological play settings with sizeable prospects to be explored, providing opportunities for investors looking for 'Advantaged Energy' low cost, low carbon energy.
Also offered are the Chenang DRO cluster off the coast of Peninsular Malaysia and the Bambazon DRO cluster off the coast of Sabah. These are shallow water clusters located close to existing producing hubs that will enable quick monetisation.