Japan Organisation for Metals and Energy Security (JOGMEC) and INPEX Corporation have executed a Joint Research Agreement to evaluate the potential of the Bonaparte Basin in Australia to become a leading carbon storage location.
The joint research will support INPEX as it assesses the feasibility of using GHG Permit G-7-AP1 for long-term geological storage of carbon dioxide (CO2).
INPEX is the operator for the Bonaparte CCS JV and is working with its joint venture partners to assess the potential for CCS in the permit. The sedimentary basin is located in the easternmost offshore province of the North West Shelf, crossing Western Australia and Northern Territory.
Success in this venture will provide for storage of CO2 from the Ichthys Project and support the realisation of the Darwin-based, low-emissions carbon dioxide capture, utilisation and storage (CCUS) Hub as proposed by the Northern Territory Government.
Through their joint research, JOGMEC and INPEX will continue to promote technical development contributing to the reduction of GHG through CCS activities while helping reduce GHG emissions in Australia toward the realisation of a net zero carbon society by 2050, a common goal shared by the governments of Japan and Australia.
The parties will also continue to fulfill their responsibilities for the development and stable supply of energy.
INPEX was jointly awarded a greenhouse gas storage assessment permit (title G-7-AP) with TotalEnergies CCS Australia and Woodside Energy, in a joint venture known as Bonaparte CCS Assessment, in August, following Australia's 2021 Offshore Greenhouse Gas Storage Acreage Release.
INPEX announced in September that through its subsidiary INPEX Masela, on behalf of its joint venture partner Shell Upstream Overseas, it has extended a memorandum of understanding (MOU) with PT PLN (Persero) concerning long-term liquefied natural gas (LNG) supply and expanded the MOU to incorporate joint studies in hydrogen/ammonia and CCS in relation to the Abadi LNG Project.
To make further use of CCS facilities, INPEX and its partner are considering the production of blue hydrogen and ammonia using natural gas produced from the project.
It plans to introduce CCS to the Ichthys gas-condensate field in the late-2020s and start injection of 2 million tons of CO2 per year as a first step.
Australia is home to several leading geological storage basins close to industries producing greenhouse gas emissions, enabling the storage of carbon in proximity to its production for oil and gas industries, according to Corrs Chambers Westgarth law firm.
It also means infrastructure, such as pipelines, required for CCS projects is already in place.
Co-located industries will be used as the platform for further expansion of CCS in Australia and assist in the development of technology and appropriate regulation in the various states and territories.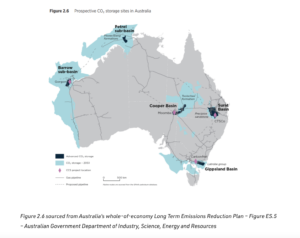 ... to continue reading you must be a member