India and China will drive the liquefied natural gas (LNG) regasification capacity additions in Asia between 2022 and 2026, as the two countries step up imports of natural gas to reduce carbon emissions, according to GlobalData research.
Together the two countries will account for 55% of the region's total capacity additions by 2026 through new build and expansion projects, the data and analytics company reports.
GlobalData's report, LNG Industry (Liquefaction and Regasification) Capacity and CapEx Forecast by Region and Countries, All Active Plants, Planned and Announced Projects, 2022-2026,  shows Asia is expected to witness the highest regasification capacity additions of 19.6 tcf from new build and expansion projects during the outlook period. Of this, 16.8 tcf capacity is expected to come from new build projects and the remaining from the expansion of the existing projects.
Himani Pant Pandey, Oil and Gas Analyst at GlobalData, said, "Among the fossil fuels, natural gas emerged as the bright spot as it is seen as a relatively clean option and can act as a bridge fuel to lead the energy transition. Therefore, countries such as China and India are increasingly importing LNG to meet their carbon-neutral goals and reduce emissions."
Tangshan II is the largest upcoming regasification terminal in China. Expected to commence operations in 2022 with an initial regasification capacity of 341 bcf, the terminal is likely increase its capacity to 584 bcf by 2026. Caofeidian Xintian LNG is the operator of the terminal.
In India, Jaigarh Port terminal is the largest upcoming LNG regasification project with a capacity addition of 390 bcf by 2026. To be operated by H-Energy, the terminal is expected to start operations in 2025.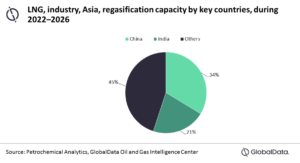 Last month China's state-owned National Oil and Gas Pipeline Group (PipeChina) and its partner Nanshan Group accelerated the construction of Longkou Nanshan LNG storage project in Yantai City, east China'sShandong Province during National Day holiday.
The project includes an LNG receiving terminal, a wharf, and some LNG storage tanks. Construction workers are now working on the No. 6 tank.
Asian LNG importers are experiencing high inventory levels and tank-tops, on the back of a mild start to the winter season that has slowed downstream natural gas consumption, according to several traders and market participants, reports S&P Global.
India is currently facing a glut of LNG as industrial gas customers are buying less from LNG terminals due to high prices and are rushing to alternatives, according to Bloomberg.
The 2022 LNG market faces significant uncertainty, with forecasts showing a tight market and elevated prices for at least the next two to five years, according to new McKinsey research – which also highlighted optimism in the China market.
Chinese buyers are the most confident across all time frames and see LNG as a key part of the energy transition, helping to meet demand in a relatively low-carbon way while reducing coal use.