Conrad Asia Energy has been named as the winning bidder for the Offshore North West Aceh (ONWA) and Offshore South West Aceh (OSWA) PSCs located offshore northwest and southwest of the Aceh Province of Indonesia. Conrad will operate and hold a 100% participating interest in both blocks.
The PSCs contain hydrocarbon potential around the existing shallow water gas discoveries close to shore and in the underexplored deep-water portions of the blocks. The water depths in the two working areas vary between 5-1,500m, with the existing discoveries located in water depths of less than 100m.
The ONWA block comprises total acreage of 9,182 sq km and contains the Meulaboh-1 and Meulaboh East-1 gas discovery wells. The OSWA block covers 10,700 sq km and contains the Singkel-1 gas accumulation. These discoveries have all been successfully flow tested at commercial rates and are close to shore, offering near-term, low-cost commercialisation opportunities.
Miltos Xynogalas, Conrad Managing Director and CEO, said, "The award of these two PSCs is a transformational event for Conrad as these blocks contain discoveries that significantly increase our resource base and offer the opportunity for Conrad to add several gas projects to its existing large Mako gas project. Conrad's initial scoping study of gas markets in the region has been positive and we are optimistic of commercialising these discoveries."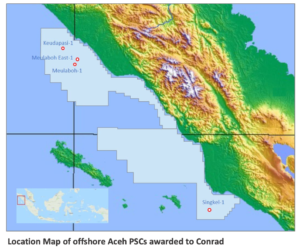 The upside for Conrad is the exploratory opportunity in the deep water, where it has already identified a host of high impact gas plays, potentially each multi-trillion cubic feet in size, with gas chimneys and flat spots, indicating evidence of hydrocarbons.
"These blocks are consistent with our company strategy of being focussed on gas in offshore locations within Asia, in order to build our gas portfolio in the region," he added.
News of the bids came hot on the heels of Conrad announcing that West Natuna Exploration, a wholly owned subsidiary of Conrad and operator of the Mako Gas Field (Duyung PSC), has received written approval from the Indonesian Minister of Energy and Mineral Resources for the Plan of Development (POD) Revision for Mako Gas Field, which aims to double Indonesia's gas production by 2030 (and holds 98% methane). The approved POD reflects an 458% increase in Contingent Resources (and significant increase in gas production offtake rate).
The award of the revised POD represents a material event in progressing the Mako project and is "a significant milestone" on the critical path to developing this significant resource, which is currently the largest undeveloped gas field in South Natuna Sea.
Presently, there is no infrastructure to transmit gas from the Mako field to domestic markets in Indonesia, so the POD approves the export of production to Singapore, which is already connected to the West Natuna Gas Transportation System, until and unless such evacuation routes are built – at which point up to 25% of production may be allocated for domestic sale. Production is due to start in 2025, providing up to 12mcf of gas per day.