Saudi energy developer ACWA Power (ACWA) has signed a Memorandum of Understanding (MOU) with Indonesia's state-owned electricity provider PT Perusahaan Listrik Negara (PLN) to explore various avenues for renewable energy development.
Signed earlier this month at the B20/G20 Summit in Bali, the agreement lays out a pipeline of renewable energy and technology development for ACWA within the country. This includes the potential for undertaking a project study for pump storage for a 600-800MW (megawatt) hydroelectricity facility, investigating the possibility of a 4GW (gigawatt) battery energy storage system and the development of a green hydrogen/ammonia facility powered by hydroelectricity.
"With the signing of this extensive renewable energy and green hydrogen MoU with PLN, we are delighted to extend our collaboration and strengthen our presence in the country," commented Paddy Padmanathan, CEO and Vice Chairman of ACWA Power.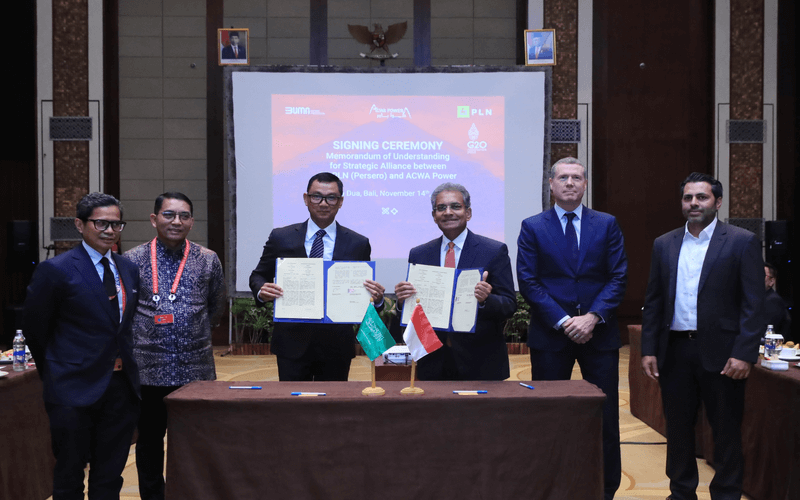 The strategy aligns with Indonesia's National General Energy Plan, which states that 23% of the country's power should be generated via renewable energy sources by 2025. Owning or operating nearly two-thirds of Indonesia's power generation industry, PLN sees climate change not only as a challenge to deal with to preserve the environment, but also a business opportunity that requires strong partnerships.
"In the future, there will be many PLN agendas in the energy transition that require the collaboration of all parties," said Darmawan Prasodjo, President Director and CEO of PLN. "ACWA Power and PLN have built a very strong, long-term and productive partnership."
The companies have previously worked together during the construction of floating solar power plants in Singkarak and Sagulin through an MoU signed in October 2022.
"PLN and ACWA are exploring the development of renewable energy projects and technological advancements in solar PV, wind, hydro, pump storage, battery peaker, battery storage, tidal and geothermal. In fact, we will jointly develop green hydrogen and green ammonia facilities," added Prasodjo.